Welcome to Electric Guard Dog
Electric Security Fence Service
#1 Theft Deterrent Service™
Alarms. Cameras. Guards. Companies employ all three and still have a crime problem.
When all else fails, the commercial & industrial markets turn to Electric Guard Dog, the #1 Theft Deterrent Service. We are the heavy-duty solution to theft problems, because we keep the problem out.

Hear how SA Recycling's inventory is adding up with Electric Guard Dog.
95% OF OUR CUSTOMERS HAVE NO EXTERNAL THEFT
In a 2010 independent survey, 95% of our customers stated they've had NO external theft since installing The Electric Guard Dog electric security fence system. The remaining 5% said we've reduced theft overall on their site.
How can we help you meet your business' perimeter security needs?
Learn More About Our Products and Services
Learn More About Our Security Systems Product Options
Learn More About Our Solar Powered Electric Fence
THE SECURITY CHOICE FOR COMMERCIAL AND INDUSTRIAL SITES
A Security Partner for 3,000+ commercial and industrial locations across the nation, we're the first to develop electric security fence solutions and we're still the largest nationwide provider by far, protecting businesses and their assets while reducing total security costs.
Reduce costs with electric security fence solutions. Read more
Our product is unparalleled as a safe and effective theft deterrent, the premiere choice of market leaders in many commercial industries. We have the largest technical and customer service base nationwide and are the most experienced when it comes to protecting your outdoor assets.
Read more about our safe and effective theft deterrent product.
When you're ready for...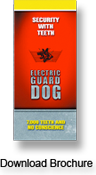 Contact our security experts. They can help you find the right security solution to meet your business' security needs.
Want to know more about Electric Guard Dog? Click here to read more
Back to Top